Above, I've reproduced my comparison of Bauer & Co.'s 1895 Schattierte Grotesk with Bauer & Co. and H. Berthold AG's 1898 Accidenz-Grotesk. The image shows both typefaces in their 36 and 48-pt sizes. I took this Schattierte Grotesk specimen is from columns 407–8 of the 1896 Archiv für Buchdruckerkunst und verwandte Geschäftszweige issues. The lines of Accidenz-Grotesk are from Bauer & Co. and Berthold's joint 1911 catalogue.
As I mentioned earlier this year at a lecture in Berlin, and in an article for Footnotes, I believe that the regular weight of Akzidenz-Grotesk was derived from Schattierte Grotesk, a drop-shadowed display typeface that the Bauer & Co. type foundry in Stuttgart and Düsseldorf published in 1895. Clip the drop shadows off of Schattierte Grotesk's letters and you get the Akzidenz-Grotesk design.
Bauer & Co. was bought by the Berlin-based H. Berthold AG in 1897, who closed Bauer & Co.'s Düsseldorf branch down but kept the Stuttgart factory open until 1930 (Berthold would do business in Stuttgart again after the Second World War). When it came to Akzidenz-Grotesk's origins, the question that I had was not where the design came from in general, but rather where its punches were cut specifically. Was that done at Stuttgart, like Schattierte Grotesk? Or did Berthold cut them in their Berlin headquarters themselves?
The original spelling of Akzidenz-Grotesk was with two c's instead of a kz: Accidenz-Grotesk. Some of its first advertisements, issued jointly by Berthold and Bauer & Co., showed Accidenz-Grotesk in 13 sizes. These ranged from 3 on 6 pt through 48 pt, and those sizes had the product numbers 760 through 772.
On German design patents
Germany introduced design patents (Geschmacksmuster) in 1876. At the time of Akzidenz-Grotesk's release, firms would file patent registrations for their products with local magistrates, who noted them in their Muster-Register. A nationwide registry was not maintained. Nevertheless, notices of the registrations were printed in the national government's newspaper: the Deutscher Reichsanzeiger. Notices of many typeface design registrations also ran in Journal für Buchdruckerkunst, Schriftgießerei und die verwandten Fächer.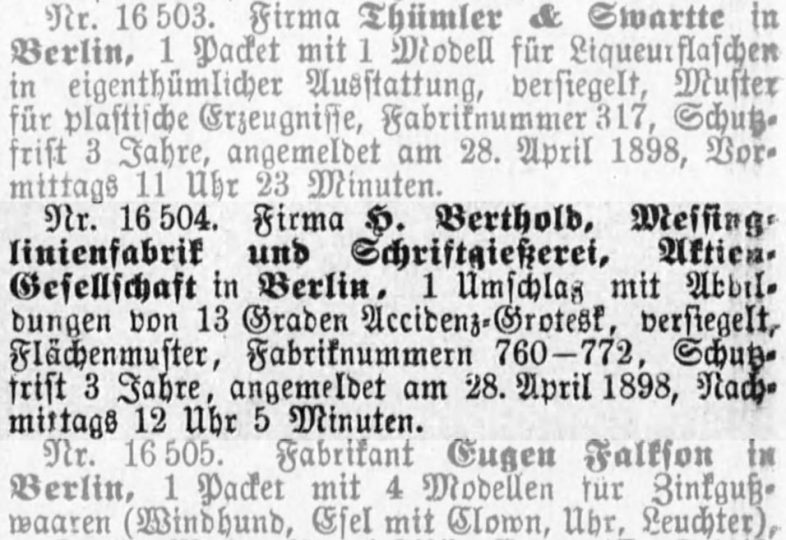 A few years ago, I found the notice of Berthold's design patent registration for Accidenz-Grotesk in the 9 May 1898 issue of the Reichsanzeiger. That notice is reproduced above, but since it is composed in Fraktur type, I've transposed its content into roman here:
Nr. 16 504. Firma H. Berthold, Messinglinienfabrik und Schriftgießerei, Aktien-Gesellschaft in Berlin, 1 Umschlag mit Abbildungen von 13 Graden Accidenz-Grotesk, versiegelt, Flächenmuster, Fabriknummern 760–772, Schutzfrist 3 Jahre, angemeldet am 28. April 1898, Nachmittags 12 Uhr 5 Minuten.
My English translation of that notice would read:
No. 16,504. [Registered by the] firm H. Berthold, brass rule factory and type foundry, joint-stock company in Berlin, one envelope with images of 13 sizes of Accidenz-Grotesk, sealed, surface pattern, product numbers 760–772, period of protection [to last for] three years, registered on the 28th of April 1898, [at] 12:05 o'clock in the afternoon.
A new discovery
Last week, I found another notice from an issue of the Reichsanzeiger printed nine days later, on 18 May 1898. However, that registration notice was for a design patent that had been filed two weeks before Berthold's. Registration notices were not published in the Reichsanzeiger by the nationwide order that they had been filed in. Instead, the newspaper would regularly publish a collection of the most recent registrations made in one city. That explains why notice of a Berlin registration was printed before one from Stuttgart, even though the Stuttgart registration had taken place earlier.
The notice of this earlier registration stated that Bauer & Co. had filed for a design patent on an unnamed Grotesk typeface, which also had 13 sizes. While this notice only listed one product number, instead of the typeface's whole product range, the number given was 772, which at the joint Bauer & Co./Berthold company denoted Accidenz-Grotesk's 48-pt size.
This suggests that the master punches and matrices for the typeface may indeed have been produced in Stuttgart, and that Bauer & Co. then gave those to their mother company in Berlin. Perhaps it was Berthold's staff in Berlin that christened the typeface with the title Accidenz-Grotesk – but we should not give too much credence to this product's name. As I mentioned in a post earlier this year, Accidenz/Akzidenz was a very common naming element in German-language type founding during the late-nineteenth and early-twentieth centuries.
What does it say?
Here is the notice of Bauer & Co.'s registration, followed by my translation of it:
Nr. 1 483. Firma Schriftgießerei Bauer u. Cie. in Stuttgart, ein Muster einer Garnitur Grotesk in 13 Größen, Fabr.-Nr. 772, für Druck- und Prägezwecke, in verschloßenem Umschlag für Flächenerzeugnisse, Schutzfrist 3 Jahre, angemeldet am 14. April 1898, Nachmittags 4 Uhr.

No. 1,483. [Registered by the] firm Bauer & Co. type foundry in Stuttgart, a sample [showing] a set of sans serifs in 13 sizes, product number 772, for printing and embossing purposes, in a closed envelope for surface products, period of protection [to last for] three years, registered on the 14th of April 1898, [at] 4 o'clock in the afternoon.
What does this mean?
If my reading is correct, that would mean that Akzidenz-Grotesk is a design that completely originated in Stuttgart, and not in Berlin.