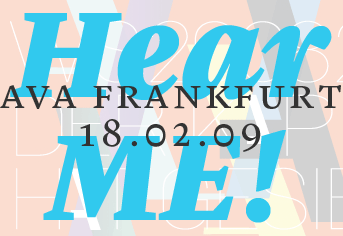 On this coming Wednesday, February 18, 2009, I'll be presenting at the Academy of Visual Arts Frankfurt as part of their 5 Uhr T lecture series. The theme of my talk (in German) is a question: wieso gibt es so viele Druckschriften? (why are there so many typefaces?). My answer will try to explain to the AVA students what type design is all about, as well as why I do it.
The lecture is free and open to the public. Visitors who heard the previous talk in the series (Ralf de Jong) may be delighted to watch me try and disprove two theses he put forward during his presentation:
that Rudolf Koch and his typefaces are too dogmatic for typographers today
that only old type designers with long white beards have anything to say worth hearing
Otherwise, I admit that I am in full agreement with just about everything else that Ralf had to say last time.
5 Uhr T begins at 5pm in the Academy of Visual Arts, Ostparkstraße 47–49, Frankfurt am Main.