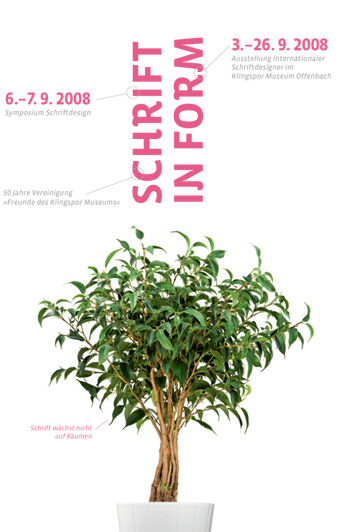 Mark your calendars! On Wednesday, 3 September 2008, a new exhibition of contemporary typeface design will open at the Klingspor Museum in Offenbach, Germany. Everyone is invited; the festivities will commence at 7pm. Unfortunately, I'll be in England writing my dissertation. Even though my work is included in the exhibition, I won't have the opportunity to see it myself. Below is a translation of the museums announcements regarding the exhibition and an accompanying two-day symposium.
2008 is a year that recalls great typeface designers: 130 years ago, Paul Renner was born. In November, Hermann Zapf will celebrate his 90th birthday. Adrian Frutiger turned 80 in May. 40 young designers are their worthy successors. To help celebrate the 50th anniversary of the »Friends of the Klingspor Museum«, the Klingspor Museum and this society are pleased to exhibit typefaces from the world over. This will strengthen the reputation of the Gebr. Klingspor type foundry and its successor museum, which holds one of the most significant collections of twentieth century typeface design artefacts. The exhibition was developed in cooperation with Linotype GmbH in Bad Homburg and TYPOSITION. in Offenbach am Main.
And there is a two-day symposium, too: 6–7 September 2008, also in the Klingspor Museum.
On the occasion of the 50th anniversary of the »Friends of the Klingspor Museum« (Vereinigung Freunde des Klingspor Museums e. V.), the society is organizing a symposium featuring talks from exemplary designers and protagonists of today's milieu. This symposium hopes to shed light on the originality and requirements of contemporary typeface design. Also of note are the historical value of the former Gebr. Klingspor foundry and the museum as a forum an repository.

Schedule Saturday 6 September, from 11am onward:

Stefan Soltek, Klingspor Museum Director—Welcoming
Akira Kobayashi, Linotype's Type Director—Quality in type design
Christina Bee, Designer in Hamburg—Olga from KABK
Stefan Claudius, Designer in Essen—Cape Arcona Type Foundry
Jürgen Weltin, Designer in Munich
Lukas Schneider, Designer in Frankfurt
Paul van der Laan, Designer and teacher in the Hague—From pixels to vectors and back again
Otmar Hoefer, Linotype's Marketing Director—Font marketing

Sunday 7 September, 11am to 1pm:

Hans Andree, Designer in Hamburg—From the nature and handling of text faces
Jörg Petri, Designer in Berlin and Braunschweig—Classless type or the impossibility of typeface classification
Tanja Huckenbeck and Peter Reichard, Designers in Offenbach—Post Scriptum

Admission is 25 euros, or 10 euros for students, apprentices, or the unemployed. Want to register? Call +49 (0) 69 / 80 65 21 64 or write to klingspormuseum@offenbach.de
Only 50 seats are available, so hurry!
Do you want more details? Here are some links (in German):
Spatium magazine
Klingspor Museum