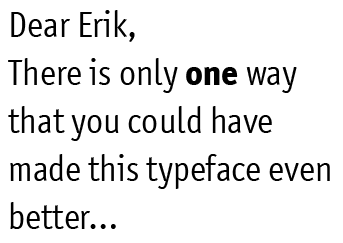 I try not to have heroes. I don't see the benefit. How do you explain the downsides—which every person must have somewhere—when you idolize someone? Still, there are people that one looks up to. As designers, there are projects that you look up to, too. As a type designer living in Germany, I don't think that there is any way around Erik Spiekermann's body of work. It is quite prolific, and I doubt that any living designer has changed the national landscape with his thoughts or actions more.
Since I travel about 20 hours per week on trains and subways—maybe even 30—I see Erik Spiekermann's work every day. While the Frankfurt transit network doesn't use any of his typefaces, both the German national train system and the Berlin underground do. Also, whenever you try to sell your fonts to German customers, you know that Erik's designs are somewhere in the back of their minds. They look at your letters and ask, "are these narrow enough?"
Now I am going to be looking at even more of Erik Spiekermann's well-crafted letters… every time I open up Excel. I'm probably not alone in writing this, but I hate Excel. I think that Microsoft is actually a great company; they've done more to bring script support to all parts of the globe than anyone else. They have some neat fonts bundled with their OS, too. But Excel is a chore. I have both the Mac and PC versions, yet I try to get by with Apple's Numbers whenever I can. Erik has gone along and done something that will make my work-life with Excel a little less bad.
Axel is a new typeface from FontShop Germany. Or FontShop Berlin, or FontShop Deutschland (I never know what to call them…). That's right, you read this correctly! Axel is not a FontFont, from FontShop International, or FSI. Axel seems to be a collaborative design by Erik Spiekermann, Ralph Oliver du Carrois, and Erik van Blokland. Plus, Jens Kutílek did the hinting. It is expressly created for use in Excel, on screen. In German, the sounds for the word "Excel" and the name "Axel" are virtually interchangeable.
German customers can license the four cuts of Axel from FontShop for just €9.90 (plus tax) through the end of June. International customers can get it until the end of the month for about 20 euro, I think. After July begins, I guess that Axel will become a normally priced font. Jürgen Siebert has been blogging that Axel can even be used for @font-face embedding, which could even kick off a mini-revolution, as Axel has ClearType hinting, and almost all of the fonts that web designers think they want to embed are actually just PostScript-hinted, and would look like dog shit on the web.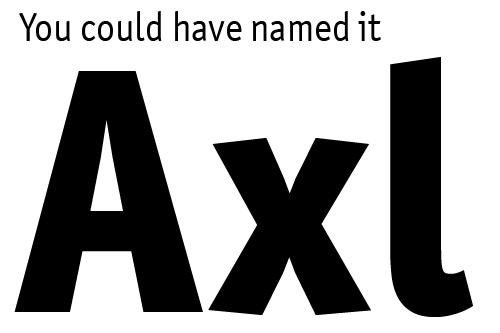 Going back to heroes, I did have idols when I was younger. One of them was Axl Rose, who was the only famous person with red hair that I had any sort of exposure, too. If only I had any musical talent, just think of what I might have become! But I was destined to work with letters instead. Still, I think that Axl would have been an even more kick-ass name for this typeface…
I bought Axel at TYPO-Berlin, and I've already made it the default font on both my Mac and Windows versions of Excel. I recommend that you go do exactly the same thing. I guess that the place for non-Germans to go now is here.