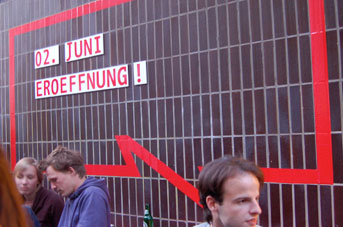 Last year, the city of Berlin unveiled a new image campaign entitled beBerlin. Much blog chatter ensued regarding the merits of this concept, but I am not interested in rehashing any of that. It suffices to say that the thing that impressed me most of all was the custom typeface commissioned for the whole thing, Alessio Leonardi's BMF Change.
For several months, Anke has been part of small MA course at the TU Berlin—Bühnenbild_Szenischer Raum. The students on this course undertake a myriad of projects, ranging from traditional stage design to contemporary exhibitions. Recently, Anke and five other students worked with a design agency and the city government to create a storefront/gallery space for the beBerlin campaign, the beBerlin Stadtladen. After six weeks, the store opened to media and public fanfare on Friday night.
The Stadtladen's opening had everything that I look for in a party: cool students, great type, and free beer. There were plenty of other people who made their way to the event, too. I assume that most of them had something to do with the academic, design, or political connections of the project. The Stadtladen is going to be open until at least December 2009, and it is quite centrally located. At the corner of Rochstraße and Dircksenstraße, the store is halfway between the S-Bahn stops Alexanderplatz and Hackescher Markt in Mitte.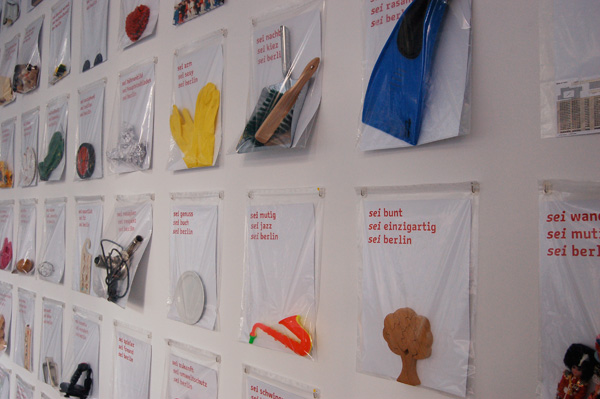 The beBerlin campaign interviewed over 400 city residents with unusual life stories that all revolved the image Berlin hopes to project to the world. The store's design picks up on this idea. The designers selected 180 of these "stories," and found everyday objects that act as their visual metaphors. These objects were placed in plastic bags (35cm × 45cm), which fill the entire wall surface of the Stadtladen. White paper bags—some of which are illuminated—hang at different levels from the ceiling, creating a shorter space of uneven height. The center of the store is an exhibition space.
Several exhibitions will be held over the next six months. The current one showcases the work of young local product designers. This exhibition is part of the CREATE BERLIN campaign, which I think is at least tangentially related to beBerlin and the Stadtladen.
Address
stadtLaden
Rochstraße 15
10178 Berlin
www.sei.berlin.de