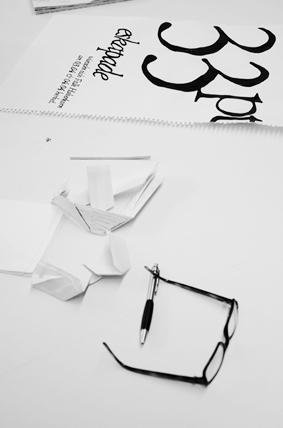 The Design Department of the University of Applied Science and Arts in Dortmund presents the typography symposium 33pt. Eskapade in Dortmund on April 3rd and 4th, 2009. The concept ties in with the successful 2006 symposium, 33pt. Musik, and is going to show and explore different perspectives concerning language, fonts, and typography.
The event will focus on the topics mentioned above, but will as well touch various other aspects, disciplines and focal points. Besides typographical digressions, the symposium also aims to revolve around questions of semiotics, scenography and motion design regarding fonts and typography. Therefore, this symposium will not only differ from usual events dealing with typography (Forum Typografie, Tage der Typografie, and so forth), but will also allow an interdisciplinary approach to this topic (photography, scenography, film, object design).
This year's symposium is themed Eskapade (Escapade [French]: a wrong jump of a dressage horse; a wanton prank, an adventure, an infidelity or side leap). This motto is to be individually interpreted and adressed by top-class speakers. Each invitation has been created, designed and customized in form of posters and clips. Furthermore, the event will be attended and internationally covered by Typeradio (Donald Beekman and Lisa Enebeis).
33pt. Eskapade is developed and organized solely by students. The whole conception, design and execution will be developed by a student project team. Due to the above mentioned collegiate background of the symposium, there will be no admission fees: 33pt. Eskapade is a non-profit–project.