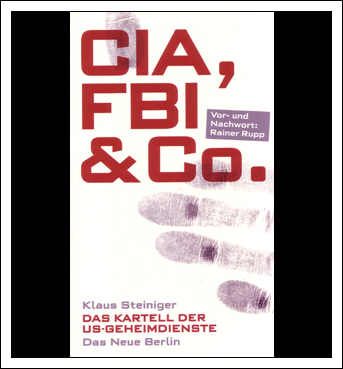 Linotype released my Morris Sans typeface about a year ago, but until a the day before yesterday, I hadn't seen the fonts in use anywhere. Since I spend most of my time walking through the streets looking at letters anyway, I always held out a little beacon of hope that I might one day run into Morris Sans in the wild.
On my way to Dunkin' Donuts two days ago, I stepped into a rather enormous tourist book shop on Berlin's Unter den Linden. After spending a few minutes looking at a model reconstructing the historic city center that was sitting in the back of the shop, I made my way for the exit. That is when this book cover caught my eye.
The title is FBI, CIA & Co., and it was written by Klaus Steiniger and published by Das neue Berlin, 2008. Since it was the first time I'd ever seen Morris Sans in use, I bought a copy of the book straight away. I think that it was about 15 euro, or about one-third of what one weight of the family costs to license. I'm also afraid to say that I didn't read any of the book before I paid for it, and I can't agree with all of the author's politics, or even that this book is my typical historical reading fare. But I'm still a bit giddy about the design nonetheless.
My thanks certainly go out to www.buchgestalter.de, who are credited in the book for having designed the cover. I guess they are the ones who put in Morris Sans Medium and Morris Sans Com Heavy. More images of their design follow below…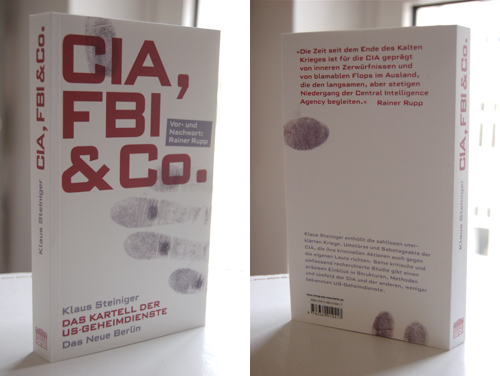 Photos of the front cover, spine, and back cover.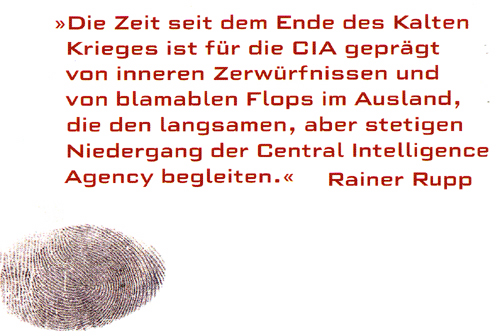 Close-up of the top text on the back cover.

Close-up of the bottom text on the back cover.