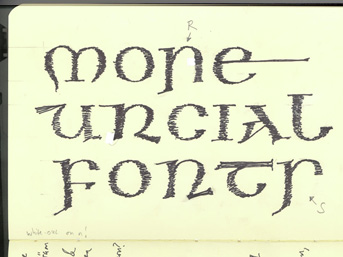 In November, I published a list of uncial typefaces here, most of which were available at Linotype.com. In the months that followed, many more uncials were added to Linotype's webshop; most of these designs came from ITC or Monotype. Below are samples and descriptions of these uncials…


Abbot Uncial is an exciting, hearty, and almost angular display uncial. It is one of many faces created by Richard Yeend, a British designer who is based in Fourqueux, France. Yeend seems to have a special place in his heart for uncial, frakturs, and other older type styles such as blackletter and the like. Abbot Uncial is unicase; its upper and lowercase glyphs are the same.


Aureus Uncial is a light-weight design from Philip Bouwsma, an eminent American calligrapher and maker of display typefaces. Much of Bouwsma's work seems inspired by the past, and like Richard Yeend, he has developed a number of types that envoke the ancient and medieval worlds.


Benedict Uncial also comes from Philip Bouwsma, and appears to almost be a bold counterpart to Aureus Uncial, pictured above.


Available in both light and bold weights, Benedikt was created by Sweden's Bo Berndal in 1991. As seems to be common with the designers mentioned in this post, Berndal is no stranger to the scribal tradition. Benedikt was inspired by lettering style used in European monasteries around 500 A.D. Its alphabet is unicase, and its letterforms are high-contrast.




Colmcille was designed by Colm Ó Lochlainn, a Gaelic scholar, typographer, and printer. The types were first released by Monotype for hot-metal composition in 1936. The design's intention was to provide a Gaelic looking type that worked well as a Roman text face. The digital version was made in collaboration with the designer's son, Dara Ó Lochlainn. A number of changes here were incorporated, including a new set of figures and the addition of a bold weight.

Sweeney is an unicase, italic calligraphic uncial. Its bold strokes and traditional shapes exhibit a rather ribbon-like quality. A companion face, Sweeney Lino Cut, is quite ornamented in character. Its letters could be used for drop caps. Sweeney is reported to be named after a seventh-century Irish king who went mad, thereafter roaming Ireland naked while composing poetry.


Uncial is another digitization of Victor Hammer's American Uncial, but unlike the eponymous and most ubiquitous version, this has both upper and lowercase characters. American Uncial was first designed in 1943 and released with the Dearborn Type Foundry. Hammer was an Austrian typographer who dedicated his career to uncial typefaces, which he also used to set books with via his own private press. You can read all about his design work in this other TypeOff. post. His first released typeface, the Hammerschrift, was released by the Gebr. Klingspor foundry in Offenbach am Main, Germany, in 1923. American Uncial is probably the most ubiquitous uncial typeface in the world, including Ireland. Unfortunately, its forms are not quite Irish; its i is dotted, and the shape of the dot runs the risk of looking like an accented i, which it is not.