Just in time for TypeCon 2007, Chris Lozos designed a t-shirt to advertise his typefaces. "Dezom" is the presumable name of his not-yet-existant foundry; Chris has been advertising it at at least two SoTA conferences. Anyday now, I expect his site to go live—or at least to go beyond a splash page—and take both the world of typography and suburban Northern Virginia by storm.
His 2007 shirt, which has already been discussed on Typophile, flickr, and even in German on the Fontblog, is ingenious because of the little line of text on the front bottom: "This shirt is just Dezcom's type." Known for his puns, Chris's copywriting is what me makes me appreciate the work the most.
On Saturday, I went along with my camera through Berlin Mitte, trying almost in vain to find a spot of ground without any other tourists on it for the 10 seconds or so my shutter-timer needs to go off. I wanted to avoid personal contact at all costs; the last thing I hoped for was that someone would see my strange balancing act, and ask if I wanted them to take my picture for me; although Anke did take the photo above. My various shots are all online in my flickr-space somewhere.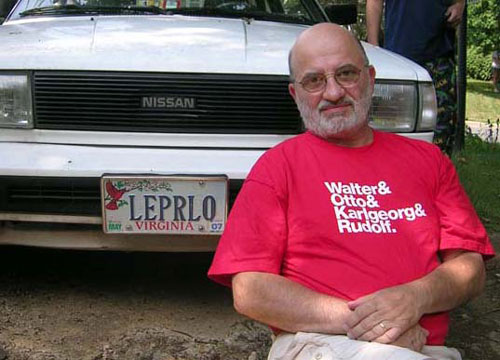 Chris and I have a little history as far as t-shirts go. At TypeCon in 2005, he bought one of the TypeOff. t-shirts (see above). I didn't make it to TypeCon 2006, but Chris produced a shirt for that year's conference, too, and he sent one back to me. It is a lovely design, but unfortunately so big that I never wore it, or sent him the promised photo of me in it. Fortunately, he overlooked this and sent me another shirt this year; I over-compensated with a photo spree along the Spree.