The Press Release Text
The third issue of Building Letters is dedicated to Sri Lanka and Thailand, and it features interesting articles by Tom de Gay, Nick Shinn, Max Kisman, Fiona Ross and Donald Beekman.
As usual, it also contains a CD with 25 free fonts, this time donated by Pieter van Rosmalen, Seonil Yun, José Scaglione, David Brezina, José Louis Coyotl Mixocatl, Stefan Hattenbach, Bram Pitoyo, Tomas Brousil, Richard Kegler, Veronika Burian, Jürgen Weltin and Ludmila Lorenz. All fonts are OpenType and with one exception, they contain glyphs necessary for typesetting of all Latin-script European languages (complete Unicode set Latin Extended A), so you can set Maltese, Welsh, or Esperanto in them; some faces contain special features, alternate glyphs, decorative glyphs, alternative numerals, ligatures, or small caps.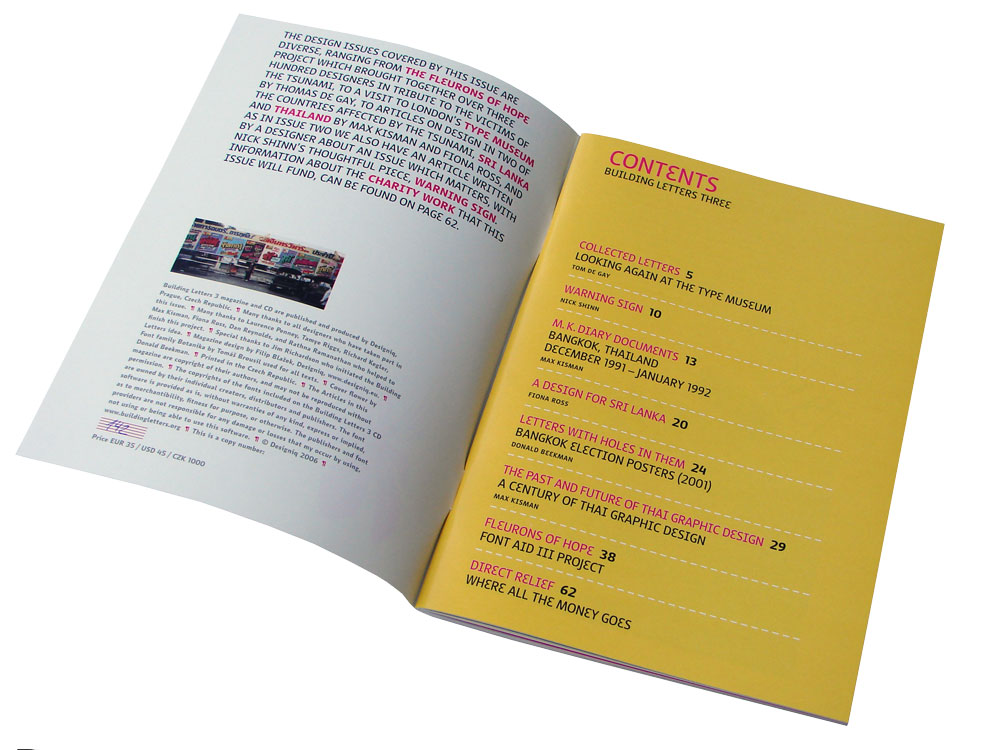 Although the TV cameras are long gone from the places hit by the tsunami, aid is still needed. This is why all profit from the sales (after deduction of hard costs) will be donated to a respected charity Direct Relief International, which will use the money to help those hit by the 2004 tsunami.
The magazine size is A5, it has 64 full colour pages, it is published in a limited run of 1000 numbered copies, and it is on sale now for 35 euros (aprox. $43) at http://www.buildingletters.org. Also, buildingletters.org will publish information on how much money was collected, and finally, it will publish a report from Direct Relief on the use of the donation.
The Non Press Release Text
Building Letters 3 is not the first design book/magazine that has been bundled with free fonts. But it is the first whose bundled fonts have impressed me. Until now, I've always loaded the CD, taken a quick look, and then buried the disk somewhere in the bookshelves, without having ever installed or used the fonts on it. The Building Letters CD is a different story. These are fonts that I would actually use. My favorites are Athelas and Ronnia, both from TypeTogether, as well as P22 Manuscript, and TM ATili Head by Jürgen Weltin. The value of these four fonts alone is certainly more than the 35 euro cost of the magazine. What a deal!
All of the fonts may be seen at http://www.buildingletters.org/freefonts.html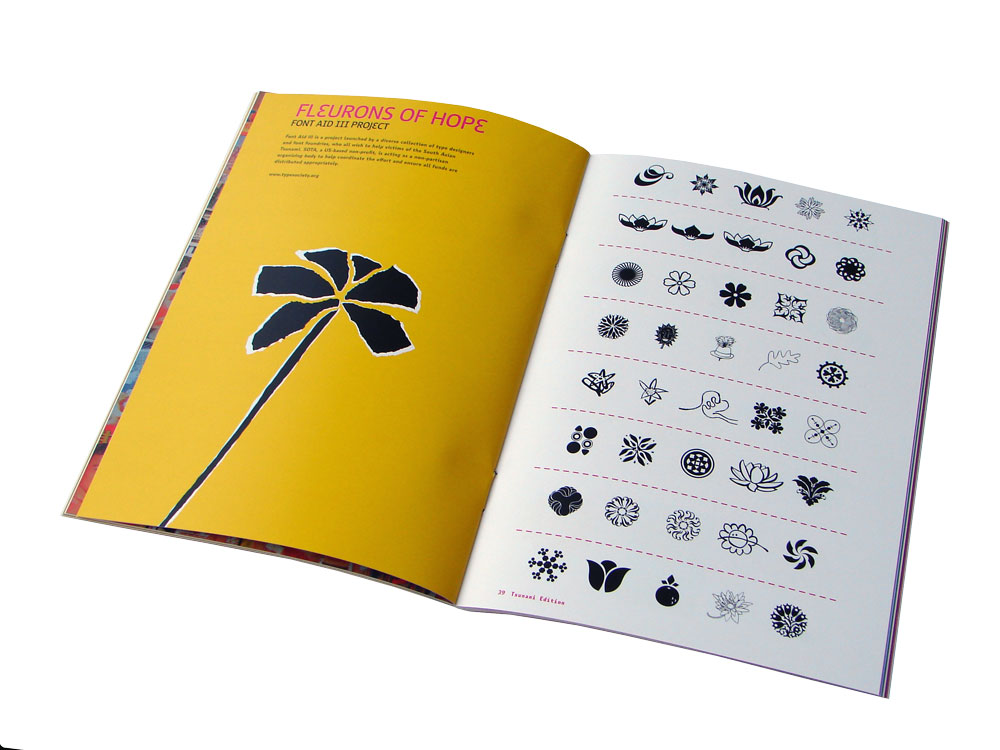 Building Letters was initiated by Jim Richardson, of the now-defunct Union Fonts. The idea for Building Letters 3 rose up together with the Fleurons of Hope project during the aftermath of the Asian Tsunami. This issue was designed and produced by Filip Blazek, of Designiq in the Czech Republic. Without his effort, the magazine's completion would never have been possible!
So what are you waiting for? Go to buildingletters.org and place your order today!