Erstes TypeOff T-Shirt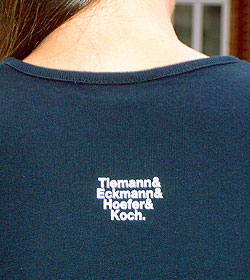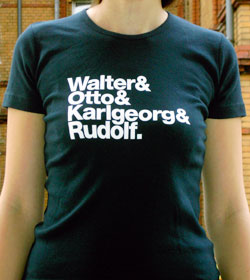 Rück- und Vorderseite: Die erste TypeOff T-Shirts sind jetzt zu haben!
€20 inlusiv Portokosten (nur Inland).

Das Design ist sowohl eine Homage an Experimental Jetset als auch die vier Schriftgestalter, deren Namen abgedruckt sind.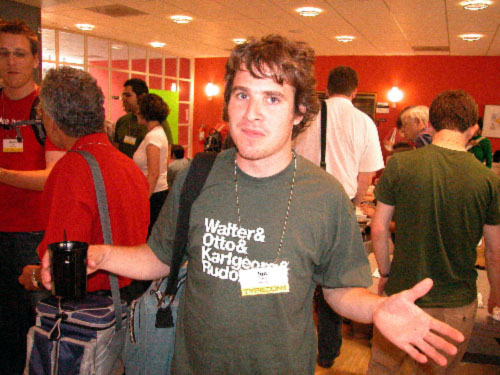 Jon Young mit einem Medium bei TypeCon 2005, New York
Walter Tiemann
(1876–1951) Leipziger Typograf und Professor. Entwarf Schriften für die Firma Klingspor in Offenbach, z.B. Tiemannâ™.
Otto Eckmann
(1865–1902) Maler und Gebrauchsgrafiker. Entwarf Schriften für die Ruhard'sche Gießerei in Offenbach, z.B. die Eckmann™.
Karlgeorg Hoefer
(1914–2000) Kalligraf und HfG Offenbach Professor. Entwarf Salto™ für die Firma Klinsgpor in Offenbach, sowie mehere Schriften für andere Firmen, u.a. Ludwig & Mayer, D. Stempel AG, und Linotype.
Rudolf Koch
(1876–1934) Offenbacher Kalligraf und Lehrer. Berühmtester Designer der Firma Klingspor in Offenbach. Entwarf dabei Schriften wie Koch™ Antiqua, Kabel™ und Wilhelm Klingspor Gotisch™.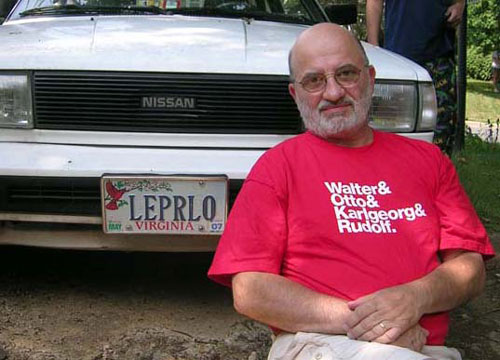 Chris Lozos mit einem XL, vor seinem Auto. Er arbeitet an einer tollen Schrift, die Leporello heißt (LEPRLO).
Die Shirts sind als Männer- oder Frauentees verfügbar.
Die Auswahl an Farben bei Männershirts ist:
Hellblau (L)
Bei Frauenshirts:
Hellblau (M)
Navy (S)
Rosa (M)
Bestell dein T-Shirt ab sofort per E-mail! Eine Sortement ist auch im Main Laden der HfG Offenbach zu finden.
Eckmann, Kabel, Koch, Salto, Tiemann, and Wilhelm Klingspor Gotisch are Trademarks of Heidelberger Druckmaschinen AG.
---
About this entry
You're currently reading "Erstes TypeOff T-Shirt," an entry on TypeOff.
Published:

07.07.05 / 8pm
Category: