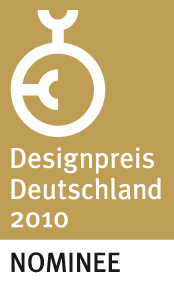 The German Federal Ministry of Economics and Technology has nominated my Malabar typeface for the 2010 German Design Prize. The design prize of the Federal Republic of Germany is the country's highest distinction in the field of design. No other design award sets such strict criteria on entries. A company can only enter the competition if its product has already been recognized in another national or international competition. The award ceremony takes place in February, 2010.
While I doubt that my typeface will take home one of the 25 visual communication prizes, it is an honor just to be nominated. This nomination is the third recognition that Malabar has received to date. Earlier this year, it was awarded a Certificate of Typographic Excellence in Type Design at the Type Directors Club of New York TDC² competition. Last month, Malabar took home the Silver prize at the ED-Awards, an annual European Design competition.
Malabar grew out of Martel, a multi-script design that I initially created in 2008 on the MA Typeface Design course at the University of Reading. The Latin component of the family is distributed by Linotype, and you can buy it here.