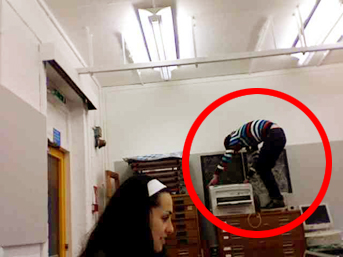 This image is from Joke's blog. Please focus only on the French acrobat in the background.
I try not to link too often to content on my fellow students' blogs, as I'm sure that most TypeOff. readers are familiar with them anyway. But this image from Joke's recent post is just brilliant… and it shows a little-known fact: typeface design students at Reading are multi-taskers.
From the photograph of Mathieu (upper right, circled), one can learn the following things:
Typeface design takes commitment. I'm not sure exactly what the time stamp on this photo is, but Joke must have taken it between 12 and 7 am.
Since typeface design is a hard profession, we all need to have back-up skills. After establishing communications with, and unclogging numerous printers between 12 and 7 am, Mathieu (or any one of us) could theoretically double as a printer repairman or tech support administrator in a pinch.
Most typophiles know that typeface designers have to be flexible… a new writing system to learn here, some scripting to be learned there, etc. But did you know that we have to be this flexible? Reading MATD class of 2009: start your gymnastics lessons now. Only then will you be able to spring a top a five-foot high cabinet and balance yourself on one foot with just a few inches of space while fixing such an uncompromising printer at the same time!