In a way, reporting on the blog that Spatium Magazine launched last week feels a bit like writing a post about your next door neighbor or your cousin. But the quality and the promise of the site impressed me so much that I need to blog its coming, too.
Spatium Magazine is edited by TYPOSITION., and Peter Reichard and Tanja Huckenbeck have spent the last five years or so creating a fine edition of issues. For about a year, Peter had been writing periodic blog entries here on TypeOff., so my first reaction when I opened up an e-mail about the Spatium blog was "hey, everyone has a blog now!" And a great magazine like Spatium needs one, too.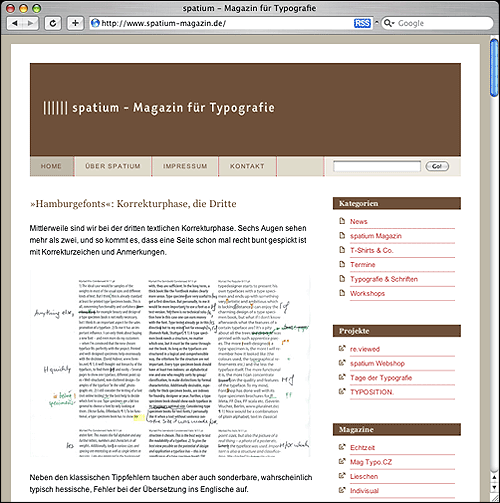 From spatium-magazin.de, you'll be able to order the fifth issue after its release later this fall. They also have the typical designer swag that we all want from a website, including a t-shirt shop. But the content of the site itself is noteworthy. Their current entry shows correction rounds scribbled onto the latest drafts, giving readers a peak into the process of the project in a way similar to what Jürgen Siebert has been posting on his Fontblog over the past year.