Following a series of Non-Latin workshops conducted earlier in the year by Fiona Ross, we added two further notches to our belts earlier in the month. Our fist visitor was John Hudson, who was followed by Thomas Milo and Mirjam Somers from DecoType.
John conducted a script workshop. Not only do we dive into Non-Latin scripts here at the University of Reading, but we also learn to master scripts for languages that do not exist. Yes, you heard that right, and in a nutshell, this is what John set out for us to do. First, he introduced us to the imaginary boʧɪn people, who are desperately in need of a script for their language. Working in groups, we all stared down the path to different solutions. After three days, John let us know that another culture—this time the equally-imaginary pɑʔæŋ—were so impressed with our writing systems that they requested we adapt it to fit their language as well.
John also introduced us to a website—paulmeier.com—that plays phonetic sounds on demand. After a while, and after each of us playing clips from our individual MacBooks in a cacophonous manner, the whole workshop began to sound like a Trio song…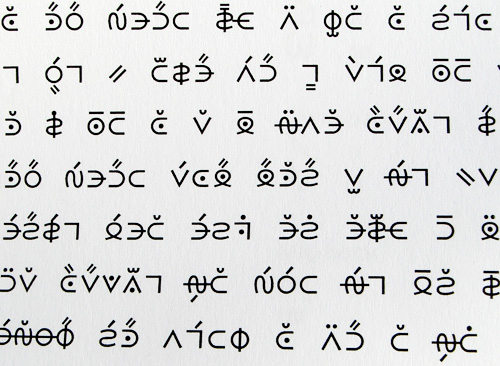 John's workshop may well have represented the first group project we've undertaken here in our year at Reading. Each of our three groups independently developing their own script for the boʧɪn and pɑʔæŋ languages. I was very fortunate to be in a group with Mathieu and Michi, who drew most of the outlines you can see in these images; my only contribution to the final font file were some of the angular elements.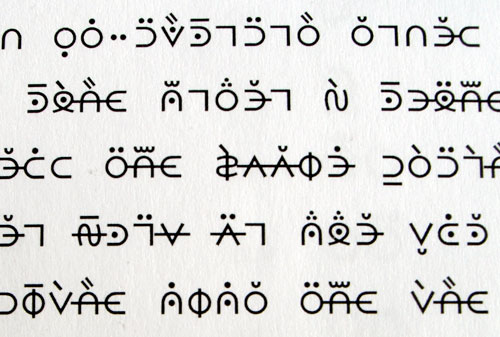 On the last day of John's workshop, Tim Holloway, Thomas Milo, and Mirjam Somers arrived in Reading. In the afternoon, Thomas and Mirjam gave a presentation into their work and the Tasmeem typesetting system, which seems to be a plug-in to InDesign ME (the "Middle East" version of InDesign, distributed by WinSoft).
After a weekend to recuperate from John, the boʧɪn, and the pɑʔæŋ, we spent two days together with Thomas and Mirjam. Two students from this year's MATD cadre are designing Arabic components in their typefaces, so we divided into two teams, each backing up one student fill out their Arabic character set.
The Tasmeem system seems ingenious (read some more about Tasmeem on Pascal Zoghbi's blog). Thomas and Mirjam presented us with two templates, a simple Alef template and a more complicated Bet template. A designer just has to design all of the necessary template glyphs, and the Tasmeem system will put the glyphs together into working text fonts. You can start with an Alef template, and only add Bet coverage if you thing that the Alef's glyphs don't give typesetters enough alteration. The template is just a catalogue of shapes. As the designer, you determine how they will look. Designers are not required to work within any specific stylistic varieties or rules.
I have never seen anything like the Tasmeem plug-in in action. It seems like this is really what OpenType always should have been. Imagine if InDesign would show you all of the various glyph combinations a word set in Zapfino or Ed Interlock could have? Right now, it can't. You have to fish around the glyph palette or click through various menu options. This is how text setting should be in the 21st century. I guess I envy InDesign ME users that they actually have this capability, while the rest of the text-setting world does not.
Although to date most DecoType fonts seem to come from Thomas and Mirjam themselves, these templates open up Tasmeem font production to anyone who wants to join. Thomas showed us upcoming fonts from at least two other designers. And maybe more… my head was too busy spinning with all of the possible options. I wonder who will join up next? If I were designing an Arabic font at Reading, I think I'd make it Tasmeem-compatible, too.