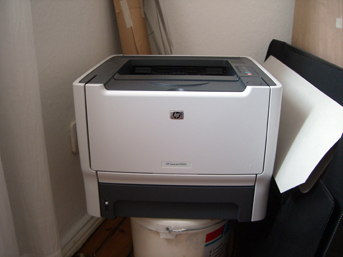 So far, so good: My new HP LaserJet P2015.
Proofing your typeface at home is a giddily selfish pleasure. In Reading, I inherited my own laser printer from two of the nicest Midwestern typeface designers. While I prefer to work in the MATD studio at the University rather that alone at home, it is a wonderful thing to be able to print out a night's work right before you go to bed. This Reading HP LaserJet 1022 is nice enough for this purpose, but in and of itself, it is not an adequate type proofing machine. Since its PostScript emulation runs on the rather dark and heavy side, its output must be compared with various other laser printers at school before important decisions can be made.
Until a few days ago, I had no laser printer of my own in Germany. Anke has a nice Epson, but any sort of inkjet printer can never be used to adequately proof type. Over the Christmas vacation, members of the brilliant Berlin type community were generous enough to let me print on their own laser printers. However, this is not something I knew I could continue doing. You can only impose yourself on others so often. Even at a quite leisurely pace, I'll easily proof twice a day. On a busy day at school with Gerard Unger, I'd print once or twice an hour. Lastly, I think that every typeface designer needs their own laser printer at home anyway. Since I'll be coming back to Germany in October, I decided to jump the gun and make my purchase now (while I still have a little bit of money…).

After a bit of shopping, I had narrowed my decisions down. It is really impossible to find any decent b/w laser printer here in Berlin that isn't from Hewlett-Packard. I posed a few questions about the models I was looking at on Typophile. Ideally, I'd have loved to get a Ricoh or a Xante machine like some of the regulars mentioned on that thread. These have real PostScript capabilities, unlike HP's emulation, so what you see on paper is closer to what you draw as font outlines. But the only way to get one of these machines affordably would have been to import one from the United States via an ebay auction. This would have turned out too costly anyway, taken forever, and required me to pay a German import tax. So I settled.
In the end, I got an HP LaserJet P2015. A few people chimed in on my Typophile thread in its favor, including Peter Bruhn. Hey… if it is good enough for Fountain, then it is good enough for me. I placed an order online via the Amazon.de marketplace, which sold it for about 220 euros. After waiting a few days, the reseller cancelled my order, since they seemed to be out of stock. Rather annoyed, I purchased a unit in person at a Saturn by the zoo. This was a little bit more expensive, but not considerably.
So far, I'm quite happy with the print outs. Since I begun my printer hunt, I seem to have convinced at least one other designer to buy his own version of the same model. Let's hope that I don't create any buyer's remorse!
As for my other printer in Reading, it will be staying there after my departure in September. So, dear readers—and potential members of the class of 2009—, it is up for grabs. The first person to ask will get this (gently used) machine absolutely free!