Do you like type? Are you German? Perhaps you thinking about visiting Germany soon? Or maybe you are somewhere else, but still want to be informed about all the typographic events that Indra Kupferschmid and Dan Reynolds know about? Large or small, absolutely everything that comes to our ears—or inboxes—needs to make its way along to you. And it will, if you follow Indra's new type meet-up calendar on Google!
This organizational effort is new, but it will surely grow. The biggest benefit to the Type meet-up calendar is that we hope to really catalog all of the upcoming grass-roots typographic events in Germany. Among other things it will help us answer a number of burning questions, including "just how many Typostammtische are there anyway?"
If you are lonely type nerd living even remotely near Berlin, Cologne, Offenbach, or Saarbrücken (or any other city whose events we will soon attempt to add to this list), now you no longer need wonder when you can meet up with your best type buddies. The type meet-up calendar is for you!
Direct link to just the Google calendar.

But this doesn't look like it is from Apple!?
Want to feed this data into iCal instead of looking at it here? Yeah, Google will help you do that, too. Here is your link.
Is there an RSS-Feed?
Yes.
What is the best way to get my event on the calendar?
In iCal, or your other favorite calendar application, create a new event. Add our e-mail address (see image below) to your list of attendees. We can be your only attendee. Then, enter a short bit of information—like a relevant URL—about your event. Do not copy your entire press release into this field. Please fill in the full street address of your meeting location. Otherwise, how is the nifty Google Maps app supposed to work properly? Now hit the "Send" button at the bottom and we will review your event shortly thereafter!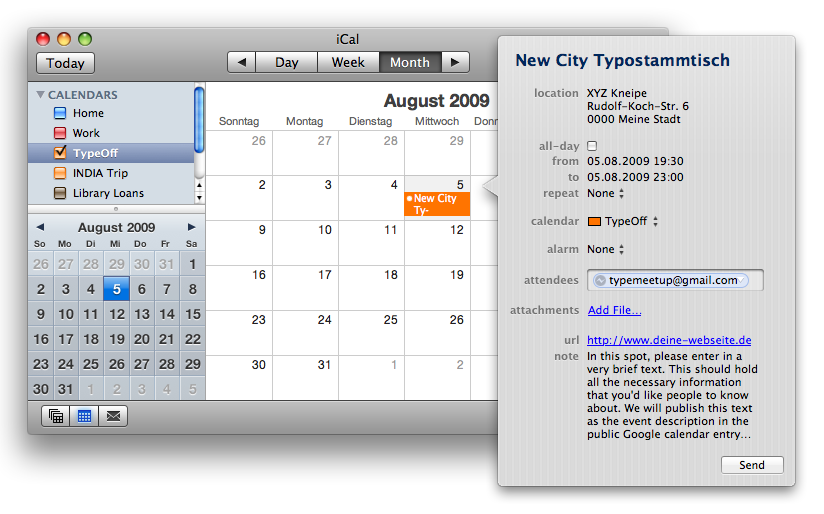 Other social media channels…
In this day and age, one Google calendar just isn't enough to reach everyone the way they'd like to be reached. So type meet-ups also has a page on Facebook.
Will it only be a matter of time before Twitter is added too?
Well, I don't know about that. But both Indra and TypeOff. are on Twitter already.