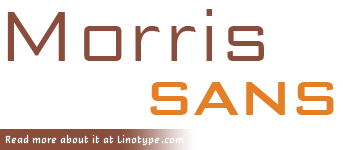 It has been about a year since Linotype released Morris Sans, an update and expansion to its old digital version of ATF's Bank Gothic typeface. This month's LinoLetter contains an article detailing the differences between ATF's metal Bank Gothic, Linotype's first digital Bank Gothic, and the current Morris Sans.
I've recapped the English text and images here. But if you'd prefer, you can read the piece in German or in French at Linotype.com (which is now a tri-lingual website)!
Bank Gothic was a typeface released in 1930 by the American Type Founders. Morris Fuller Benton, ATF's chief designer, created the family. ATF Bank Gothic was a family of five types: Light, Medium, Bold, Condensed Light, and Condensed Medium. These were cast in metal for hand composition, and remained in use for decades.