Used to Love Her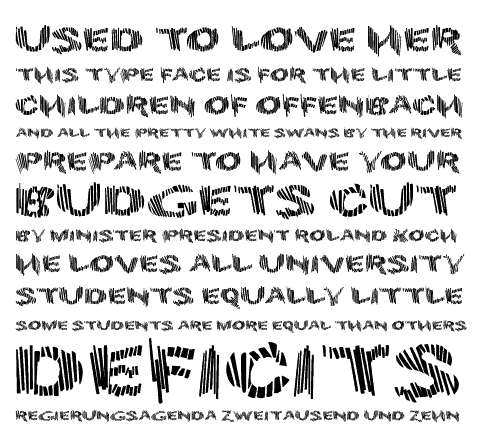 Die Used to Love Her Schrift ist von der amerikanische Designer Dan Reynolds entwickelt. Die Schrift ist keiner kompletter Entwurf, sondern ein Alphabet, dass noch in einer experimentellen/erfinderischen Phase ist. Dan hat die Schrift erst für einen Offenbacher Typographie-Projekt gemacht, in dem Kursteilnehmer nach neuen Alphabetsformen suchten. Die Teilnehmer mußten aber die Arial als Anfangspunkt verwenden, weil sie »die doofste Schrift ist, die je vorhanden war« (F. Friedl).
Nachdem Dan einen großen Arial-Schnitt ausgedruckt hatte, zerriss er die Buchstaben in viele dünne, lange Stücke. Dann kollagierte er sie schnell, um neue Buchstaben zu bauen. Nachdem Dan mit ihrem Aussehen zufrieden war, machte er eine Serie von Markierungzeichnungen, die auf die Kollagen basierte. Diese Zeichnungen waren ungefähr 20 Zentimeter hoch. Danach waren die Zeichnungen mit Adobe Streamline digitalisierte. Nachdem die Pfade im Illustrator gesäubert waren, stellte Dan den ersten Test-Font her.

»Ich denke, dass Used to Love Her ein herrliches, frisches Alphabet ist, besonders im Licht seines Ursprungs. Der Name der Schrift kommt von einem alten Guns 'n' Roses Lied«, erwähnt Dan.
---
About this entry
You're currently reading "Used to Love Her," an entry on TypeOff.
Published:

11.30.03 / 12pm
Category: